If you have any questions, feel free to contact the counsellor in the info page, or drop an enquiry in the Enquiry Box! The counsellor will get back to you soon!

Introduction
The UNIMY community is driven by a shared purpose: to create a better future through technology, education, research and innovation. We are a team of creative and innovative individuals who know how to enjoy life yet strive and aspire to improve our quality of life. We are passionately curious, imaginative, and eager to contribute to the advancement of modern technology.
Founded to upskill and foster ICT graduates with a global mindset, UNIMY is trusted to nurture these students to ensure their readiness to face the Industry 4.0 challenges. Our graduates have been applauded by the industry's best premier players and are always being constantly headhunted by the best leading IT companies.​
UNIMY's strength lies in our partnerships with IT-industry giants such as IBM, Sales Force, CompTIA and Amazon. These relationships provide our students with significant benefits such as learning opportunities, industrial attachments, and job trainings. 
Staying true to our motto 'The Future Begins at UNIMY', our community emphasizes the importance of teaching, research, and innovation as means to build a better and brighter future for humanity.​
Our motto is The Future Begins at UNIMY signifying the forward-looking nature of using technology for advancing human kind.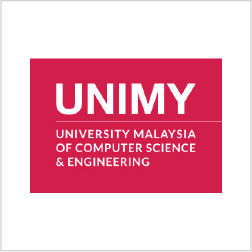 ADDRESS
Block 12, Star Central @ Cyberjaya, Lingkaran Cyber Point Timur, Cyber 12, 63000 Cyberjaya, Selangor.
OPERATING HOURS
Mon – Sun (9.00am - 5:30pm)
Closed on Saturday, Sunday & Public Holidays
Foundation in Computing & Engineering

Diploma in Game Development

Diploma in Information Technology

Diploma in Interactive and Digital Media

Diploma in Information Technology (Cyber Security)

Diploma in Information Systems (Business Computing)

Bachelor of Business Administration (Management Information Systems) (Honours)

Bachelor of Computer Engineering with Honours

Bachelor of Software Engineering (Honours)

Bachelor of Computer Science (Honours)

Master of Science (Computer Science)

Master in Computing

Doctor of Philosophy (Computing)