If you have any questions, feel free to contact the counsellor in the info page, or drop an enquiry in the Enquiry Box! The counsellor will get back to you soon!
ABOUT US
Taylor's Education Group (TEG) is one of the oldest, most successful and reputable private education institution in Malaysia and the region. It provides an exceptional educational experience to over 22,000 students in Malaysia, Singapore and Vietnam. With its unsurpassed track record built up over the last six decades, it had earned the reputation for being the centre of excellence Early Years to Postgraduate Education.
CORPORATE PROFILE
Taylor's University
Taylor's University is a modern and progressive university, well respected and regarded as one of Malaysia's most reputable private universities. It offers a comprehensive range of programmes from Foundation Studies to Postgraduate Degrees. Taylor's provides diverse study options, partnerships with leading universities worldwide and strong industry linkages to students from around the world.  
Taylor's College
For more than four decades, Taylor's College has been a centre of excellence in Pre-university studies in Malaysia, renowned for its academic excellence and unbeatable track record in placing students in top universities around the world. It operates in the biggest independent centre for Cambridge A—Levels in the world, as well as the most successful South Australian Matriculation (SAM)/SACE International programme in Malaysia
NO.1 PRIVATE UNIVERSITY IN MALAYSIA AND SOUTHEAST ASIA, AGAIN
We are ranked the top private university in Malaysia and Southeast Asia, placing us among the world's top flight universities. This follows our achievement of being one of the few Asian universities rated 5 Stars for Online Learning, acknowledging the world-class education we provide for our students. Taylor's. Strive to be the best.
QS UNIVERSITY RANKINGS
All for one. #1 for all. 
Taylor's vision for the future has always been clear: achieving balanced excellence, being recognised as a leading private university locally and globally, and equipping students to graduate in demand. 
We are humbled by the recent recognition as the Top Private University in Malaysia and Southeast Asia for two consecutive years. Leaping 47 ranks to #332 in the QS World University Rankings 2022, we are now placed among the top 1.1% of the most influential universities globally. In 2020, we surpassed yet another milestone, becoming one of Asia's Top 100 universities, ranked at #89 based on the latest QS Asia University Rankings 2021.
These successes are a testament to our commitment in providing quality education for our students. More importantly, the honour belongs not just to us, but to the entire Taylor'sphere™ community, encompassing dedicated lecturers and researchers, our industry partners, alumni, and most of all, our students and their parents.
Thank you for rising with us.
QS WORLD UNIVERSITY RANKINGS
Our prestige in Malaysia, Southeast Asia and the World
Taylor's University is now the top private university in Malaysia and Southeast Asia for two consecutive years according to the latest QS World University Rankings. We have climbed 47 ranks, receiving a global rank of 332. This also places us among the top 1.1% of the most influential universities globally.
We are humbled to stand alongside other notable universities in the world and we attribute our achievement to our academics, industry partners, our students and their parents.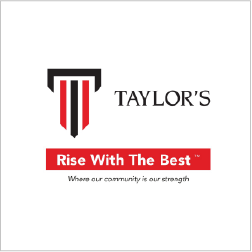 ADDRESS
No. 1 Jalan Taylor's, 47500 Subang Jaya, Selangor Darul Ehsan Malaysia
OPERATING HOURS
Mon – Fri (9.00am - 6:00pm)
Taylor's College
Pre-University 
Cambridge A Level (CAL)

SACE International (SACEi)
Foundation 
Foundation in Science

Foundation in Arts

Foundation in Engineering

Foundation in Computing

Foundation in Business

Foundation in Communication

Foundation in Design

Foundation in Natural & Built Environments
Diploma
Diploma in Accounting

Diploma in Business

Diploma in Communication

Diploma in Information Technology

Diploma in Interior Design
Professional Studies 
ACCA Foundation in Accountancy (ACCA FIA)

Association of Chartered Certified Accountants (ACCA)
Taylor's University
ARCHITECTURE, BUILDING AND DESIGN
Bachelor of Quantity Surveying (Hons)

Bachelor of Science (Hons) in Architecture

Master of Architecture
BIOSCIENCES
Bachelor of Biomedical Science (Hons)

Bachelor of Biotechnology (Hons)

Bachelor of Science (Hons) (Food Science)
COMPUTER SCIENCE AND ENGINEERING
Bachelor of Computer Science (Hons)

Specialisations:

Data Science (Dual Award)
Cyber Security (Dual Award)
Mobile Computing (Dual Award)
Artificial Intelligence (Dual Award)
Bachelor of Information Technology (Hons)

Specialisations:

Internet Technologies (Dual Award)
Business Intelligence and Analytics (Dual Award)
Game Design (Dual Award)
Bachelor of Software Engineering (Hons)

Bachelor of Science (Hons) in Robotic Design and Development

Bachelor of Mechanical Engineering with Honours

Bachelor of Chemical Engineering with Honours

Bachelor of Electrical and Electronic Engineering with Honours
TAYLOR'S CULINARY INSTITUTE
Diploma in Hotel Management

Diploma in Culinary Arts

Advanced Diploma in Patisserie & Gastronomic Cuisine
SCHOOL OF HOSPITALITY, TOURISM & EVENTS
Bachelor of International Tourism Management (Hons) (Events Management)

Bachelor of International Hospitality Management (Hons)

Bachelor of International Tourism Management (Hons)
SCHOOL OF FOOD STUDIES AND GASTRONOMY
Bachelor of Science (Hons) (Culinology)

Bachelor of Culinary Management (Hons)

Bachelor of Patisserie Arts (Hons)
SCHOOL OF LIBERAL ARTS AND SCIENCES
Bachelor of Performing Arts (Hons)

Bachelor of Psychology (Hons)

Bachelor of Social Science with Honours (Social Innovation and Change)

Bachelor of Social Science with Honours (International Relations)
AMERICAN DEGREE TRANSFER PROGRAM
Business

Engineering

Computer Science

Liberal Arts
EDUCATION
Bachelor of Education (Hons)
MEDIA AND COMMUNICATION
Bachelor of Mass Communication (Hons)

Bachelor of Mass Communication (Hons) (Advertising & Brand Management )

Bachelor of Mass Communication (Hons) (Digital Media Production)

Bachelor of Mass Communication (Hons) (Public Relations and Event Management)

Bachelor of Mass Communication (Hons) (Public Relations and Marketing)
MEDICINE
Bachelor of Medicine, Bachelor of Surgery (MBBS)
PHARMACY
Bachelor of Pharmacy (Hons)
BUSINESS
Bachelor of Business (Hons)

Specialisations:

Digital Marketing and Analytics
Finance
International Business
Management
Marketing
Bachelor of Science (Hons) Actuarial Studies

Bachelor of Arts (Hons) Accounting & Finance

Bachelor of Business (Hons) Banking & Finance

Bachelor of Business (Hons) Finance & Economics

Bachelor of Business (Hons) International Business & Marketing

Bachelor in Entrepreneurship (Team Entrepreneurship) (Hons)

Bachelor in Accounting (Fintech) (Hons)
DESIGN
Bachelor of Arts (Hons) in Interior Architecture

Bachelor of Design (Hons) in Creative Media

Bachelor in Fashion Design Technology (Hons)
LAW