If you have any questions, feel free to contact the counsellor in the info page, or drop an enquiry in the Enquiry Box! The counsellor will get back to you soon!

Introduction
Established in 1990, First City University College has since been recognised for producing many successful employable graduates and entrepreneurs. It is located in a purpose-built conducive campus in the modern township of Bandar Utama in Petaling Jaya and boasts of a vibrant local and international student community.
First City UC offers a wide range of disciplines – Engineering, IT/Computing, Design & Built Environment, Business Management, Accounting & Finance, Marketing, Mass Communication, Hospitality & Tourism Management and Languages. In line with First City UC's vision of "Empowering Students to be Globally Competitive", it collaborates with international universities which include Teesside University and Anglia Ruskin University in the United Kingdom as well as Hotel & Tourism Management Institute in Switzerland. Locally, First City UC works closely with professional bodies, trade associations and industry partners. These collaboration and links are added benefits for First City UC students.
First City UC's widely accepted industry-relevant programmes, which are enhanced by internships with companies before graduation, underpin its students' employability. A number of First City UC's graduates have set up their own businesses and are successful entrepreneurs. 
First City UC's team of dedicated, qualified and experienced lecturers is complemented by state-of-the-art facilities in its Engineering Labs and Workshops, Design Studios and Workshops, Communication Studios, and Training Kitchen and Restaurant.
First City UC's conducive campus is designed to help students juggle with new experiences, new friends, new living situations and new activities. It is eco-friendly, with lush greenery, indoor landscaped gardens, and recreational facilities for the students' holistic education. It has a Cafeteria offering a wide variety of food and beverage and a comfortable Lounge for students to relax and interact. On-campus hostel accommodation is available for out-of-State and foreign students. Rooms (Single and Twin Sharing) are air-conditioned with En-Suite Bathrooms. To help students settle into a campus living experience, First City UC has appointed live-in Wardens.
Students' recreation and sporting needs are met via the on-campus indoor and outdoor sports facilities, covering sports such as Badminton, Taekwondo, Basketball, Football, Futsal, Volley Ball, Table Tennis. A Dance Studio is also provided.
First City UC campus is located near amenities such as 1 Utama Shopping Centre, The Club and Centrepoint Mall. In addition to the MRT, buses, taxis and e-hailing transport, First City UC offers complimentary shuttle service to its campus from designated LRT, KTM stations and pick-up points.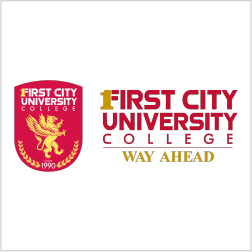 ADDRESS
No. 1, Persiaran Bukit Utama, Bandar Utama, 47800 Petaling Jaya
OPERATING HOURS
Mon – Fri (9.00am - 5:00pm)
Sat – Sun (10.00am - 4:00pm)
Foundation in Art & Design

Foundation in Business Administration

Foundation in Engineering, Science & Technology

Computing Stream

Engineering Stream

Diploma in Interior Design

Diploma in Graphic Design

Diploma in Business Administration

Diploma in Mass Communication

Diploma in Hospitality & Tourism Management

Diploma in Electronic Engineering

Diploma in Mechatronics

Diploma in Information Technology

BA (Hons) Graphic Design

BA (Hons) Interior Architecture and Design

BA (Hons) Fashion Marketing

BA (Honours) Furniture and Product Design

BA (Hons) Marketing

BSC (Hons) Accounting and Finance

BA (Honours) Mass Communication

BA (Hons) Business Management

BBA (Honours) Hospitality Management

Bachelor of Mechanical Engineering with Honours

Bachelor of Electronic Engineering with Honours

Bachelor of Software Engineering (Honours)

Bachelor of Computer Science (Intelligent Systems) (Hons)

Bachelor of Information Systems (Hons) in Business Management

Bachelor of Information Technology (Networking and Security) (Hons)

Master of Software Engineering

Master of Business Administration

Master of Design Management